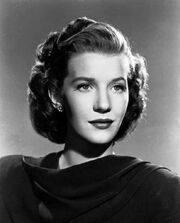 Lois Maxwell
(February 14, 1927 - September 29, 2007) provided character voices for
Stingray
. Her main role was the voice of Lieutenant
Atlanta Shore
, along with most of the other female character voices on the show.
Maxwell was a Canadian actress who was most well known for playing the character of Miss Moneypenny in the first fourteen James Bond films, from 1962 to 1985. Born as Lois Ruth Hooker, she would later change her last name to Maxwell, a name she borrowed from a friend who was a ballet dancer. She also starred in a number of "B" movies in the 1950s.
Maxwell later passed away in 2007 from bowel cancer.